About St Anna's
St Anna's is a home and school for children in Winebba, Ghana. It was set up to provide a comfortable home and family environment for abandoned and orphaned children, and as a primary school for poorer children from the surrounding region.
Our story
In 2004 Gabby Haigh and Lara de Klee spent 3 months living in Winneba on the South coast of Ghana whilst working in the Local District Hospital. They became aware of the large number of children who were homeless and living on the streets. Many children were also missing out on an education as their parents were unable to afford to send them to school.

Gabby and Lara formed the idea of building a house where some of these children could live, and which could then also be a school for poorer children from the surrounding area.
Working with the full support and guidance of the Ghanian Authorities the idea of St Anna's grew. Now in 2017 St Anna's Children's Home has been running for 7 years, and is now home to 17 children and a primary school for just over 250 local children.

Building the home
On the 26th April 2006 St Anna's became the proud owner of a small plot of land in the Donkoryiem area of Winneba.

Building soon started, although it was a few years before the house was complete. No matter how organised we tried to be we could not compete with the rainy season each year or with the national cement shortage!
The Home
The children, who had either been living on the streets or had been abandoned by their parents, were placed in the care of St Anna's by the Ghanian Social Welfare Authority. In February 2010, they and their house mother Emelia Turkson, moved in.
Today
Today 17 (ish!) children live at St Anna's. Each child attends either a local school or St Anna's Academy, and St Anna's is a happy, safe, comfortable family home. As the children grow up, St Anna's will continue to support them, enabling them to fulfill their potential, gain further education and pursue a career. As the children move on, more children will be able to join the St Anna's family.
At St Anna's we believe passionately that the home is run as a family home, giving the children care, support and a happy family life. We continue to work closely with the Ghanian authorities and with the support and involvement of the local community.
Keeping St Anna's up and running requires tireless fundraising. Our monthly expenses are just over £2,500 with school fees for the St Anna's children that have reached secondary stage, and there is always work on the house and land that need to be done.
We have invested in a new plot of land that the Academy will one day move to, and have started building! This project will cost up to £125,000-£140,000 but once up and running we will have space for 300 children, 220 of which will be fee paying (scholarships given too) and 80 of which will be educated for free, with the Academy covering the costs of not only itself but also the home. We will then be able to step back completely financially and let St Anna's look after itself!
We are hugely grateful to all our supporters though and if you are interested in helping us fundraise please get in touch.
Who is St Anna?
St Anna, mother of Mary and grandmother of Jesus, is the patron saint of grandmothers. In Europe her main shrine is found in Auray in Brittany where her relics are said to be. The Church of Saint Anne in Jerusalem is near St Stephen's Gate.
At the home and school we try to bring up the children in the Christian faith, whilst reinforcing Ghanian tradition and way of life.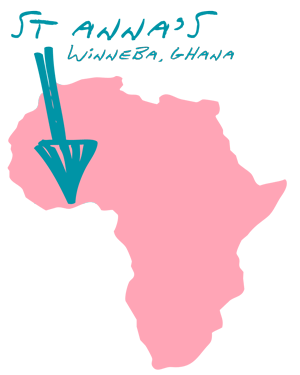 Latest Pictures from
St Anna's Home!