News: September 2009
Keep up to date with St Anna's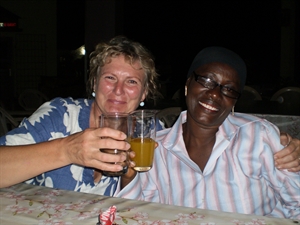 Taking my mother to visit St Anna's!
1 September, 2009
In September 2009, I finally took my mother (Charlotte) to Ghana to visit not only St Anna's, but also my other family! Emelia welcomed us both with open arms, so excited to have us stay, and what a stay it was! We did do a little "back packing" (even if that word is slightly too strong for what we did!), exploring the coast all the way along to Dixcove (50 km from the Ivory Coast) and then back to Accra, but mainly we stayed with Emeila and planned all sorts fo St Anna developments. We also met the builders, plumbers, painters, roofers, electricians and most of the team behind St Anna's. The most exciting moment though, as you can imagin, was actually going to visit St Anna's itself! To be honest I was expecting it to be quite moving perhaps, and hugely exciting- but neither of those words really express what it felt like. I could not really quite believe that something that has been a childhood dream was actually 8 rooms large, roofed, with its own garden and nearly ready to become a home to 16 children and a mother. Moving it definatley was, but exciting is an understatement. Standing in what will be the entrance hall/dinning room I began to think of all the hundreds of people who have helped with works or donations to make this possible- and I can not begin to thankyou all for what you have doen enough. St Anna's Childrens home would never have happened with out all of you.
We spent a morning wandering around with charcoal, marking on to the walls where plugs, light switches, cupboard, shower heads and beds were to go- very real things to have to do. The roof it has to be said is quite spectacular! What we have managed to acheive in the last 6 months is really brilliant even in Ghana time!
Whilst there, it became clear that an out reach programme was needed to send "needy" children to school. St Anna's hopes to be able to help children from very large families (10-16 children large) to go to local school. Whilst there we enrolled Joseph and his older brother in the local school, both from St Anna's neighbourhood. Although they will continue to live with thier mother they will now have the oppertunity of an education, giving them the chance to make more of their future lives, and develop skills they would not have been able to other wise.
St Anna's also hopes to house a kindergarten during the days, and a small window shop (quite typical for Ghanian homes), but we are taking one step at a time! Next stop... a family!"