News: June 2016
Keep up to date with St Anna's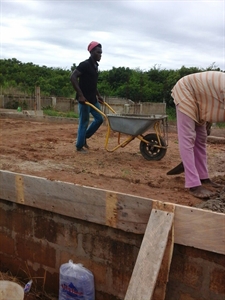 Building of the new school starts
1 June, 2016
We have started to build and have our fingers crossed that before long we will be able to open a new school for between 250-300 children. The school will be part fee paying and part scholarship, based on who is most in need. Eventually it will cover its own running costs and the costs of St Anna's home, meaning we will be able to financially take a step back.

The Academy will cost at least £120,000 to build and so it will be some time until its finished but we very much looking forward to opening its doors and we are always open to any suggestions or help in completing the school.
A huge thank you to Dan and Will who completed a charity rowing race across the Atlantic, and kindly donatated their sponsorship money to St Anna's, making the build of the school a possibility.