News: March 2009
Over the last couple of years St Anna's has gone from strength to strength and a large reason for this are the exceptional fundraising that has been done on our behalf. Below are some of the fundraising activities from which we have benefited.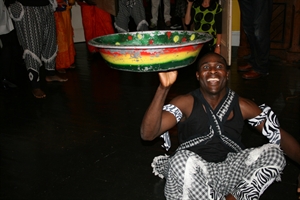 Raise the roof for St Anna's!
26 March, 2009
On the 26th March at the 20th Century Theatre in Notting Hill St Anna's hosted 'Raise the Roof', a fundraising evening of Ghanaian entertainment. Guests were able to buy a 'tile' for the new roof, sample Ghanaian food, watch West African live bands with dancers, see a contemporary African art exhibition, and discover much more about Ghanaian culture. We aimed to raise the profile of the work of St Anna's.
The building project began in 2006 and had only reached roof height in March. To have St Anna's up and running by our target date of the end of this summer we needed to raise a minimum of £15,000, instead at Raise the Roof we raised a grand total of just over £30,000!!! Really rather incredible, and we can not begin to thank all of you who made this possible!
Raise the Roof enabled us to complete the building and not only put the roof on, but has allowed us to complete the whole building project. Two weeks ago (Janurary 2010) St Anna's was able to take in and house its first abandonned children and the house mother. Beyond exciting! Thnakyou to all of you who helped through work or donations at raise the roof. Making the home a reality not just a dream.