News: March 2012
Over the last couple of years St Anna's has gone from strength to strength and a large reason for this are the exceptional fundraising that has been done on our behalf. Below are some of the fundraising activities from which we have benefited.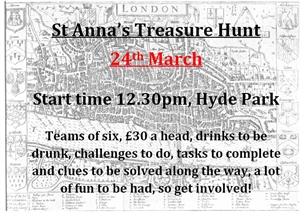 St Anna's Treasure Hunt
24 March, 2012
On the 24th March 2012, St Anna's hosted a fantastically good fun list of challenges called the St Anna's A-Z treasure hunt all around west London, to help raise money for St Anna's.
Thank you to all that came along, and made it such a fun day- we raised just under £3,000 and there is high demand for another one!